Today I'm co-hosting Tuesday 10 with the dynamic Lena from
Lena B, Actually
. This week's prompt is favorite holiday movies. This is only a prompt. Any and all list are welcome.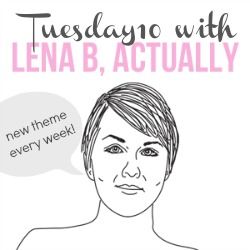 Warning:
This list is not a family friendly list. ;) Here are my favorite adult holiday movies, in no particular order.
Die Hard- Nothing says holiday cheer more than John McClane saving his wife from terrorists during a Christmas party.
Gremlins- I'm putting a Mogwai on my Christmas list. I could follow the rules.
Love Actually- I love movies with lots of storylines that come together in the end. It such a feel good movie.
National Lampoon's Christmas Vacation- The lights, the tree blowing up, the moose mug. Hilarious!
Elf- Elf is another hilarious Christmas movie. "I just like to smile. Smiling's my favorite".
Trading Places- What could go wrong when a broker and street hustler change places? So so much!
Edward Scissorhands- Who doesn't love Johnny Depp in this beautiful yet heartbreaking love story? Swoon!
Bad Santa- I love the kid!
Christmas with the Kranks- This movie is very cheesy but I watch it every.single.time it's on tv.
Lethal Weapon- Murtaugh and Riggs had an unlucky Christmas. I love the chemistry between the two.
Interesting facts: Five of these movies are from the 80's. I guess you can tell what I grew up watching. Also Jamie Lee Curtis is on the list twice. Did you notice that A Christmas Story is missing? I have to be honest, I don't like the movie. I watch it every year because hubs loves it, but me not so much.
What's your favorite adult Christmas movie?